bluebell asked:
I've been there a few times, however it's only been to the southern half (Carlsbad, Roswell) One of the times we did labor for all of the day, so I wasn't really concerned with what I needed to bring.
This time we are flying into Albuquerque and driving that day to Santa Fe. The next morning we are driving to Taos. This is where I'm confused: It's New Mexico, yet at an elevation of 9,000 feet. Super hot (closer to sun) or chilly?
Also my parents are going to be in meetings all day, so I have 9 days to roam by myself. Any suggestions on what to bring or what to do?
Thank you



gowolfpack95 asked:


My wife and I will be visiting Santa Fe at the end of April. I'm a former resident - grew up in New Mexico and graduated high school at Santa Fe High. I haven't been back in a decade, and I just want to get a pulse on the City Different. This will be my wife's first visit.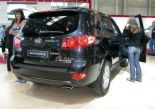 zerocool asked:


I'm driving from Texas to Utah, and will be passing through New Mexico. I'm planning on stopping for a little bit when I'm there. Does anyone have any idea if it would be better to stop in Albuquerque or Santa Fe?



arosenboy1 asked:


We are traveling to Albuquerque, Santa Fe and Taos with our 3 and 5 year old in April. Any tips?