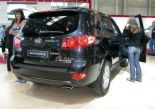 zerocool asked:


I'm driving from Texas to Utah, and will be passing through New Mexico. I'm planning on stopping for a little bit when I'm there. Does anyone have any idea if it would be better to stop in Albuquerque or Santa Fe?



Jennifer B asked:


We want to go to Santa Fe and are thinking about saving money by flying into Albuquerque. What is the drive like that time of year? Lots of snow on the road? How long does it take?



arosenboy1 asked:


We are traveling to Albuquerque, Santa Fe and Taos with our 3 and 5 year old in April. Any tips?