zootsuit posted video:

The first leg of our journey took us from Denver, Colorado to Santa Fe, New Mexico. I love Adobe architecture and possibly took too many pics of it!! We went off the beaten path and found an amazing chapel on a hill, built of adobe bricks and lodge poles in 1688.
Song is "Lights of Santa Fe" by Eliza Gilkyson


Filed under Travel by administrator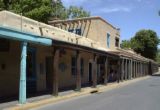 Laura K asked:


My husband and I recently went down to Santa Fe where we had dinner at a yummy Mexican seafood restaurant called Mariscos La Playa. Unlike the Mexican food I've had here it was really light tasting - no salsa in their rice, not a lot of cheese. It was more spice-based than sauce-based. We had fish tacos, steak tacos, and a delicious creamy guacamole dip. Can anybody recommend a recipe book similar to the type of food served in this restaurant?



qp727 asked:


My personal favorites are the Grand Canyon, Salida CO, and Taos New Mexico. I will vote for the most stupidesnt answer, so please be reasonable.